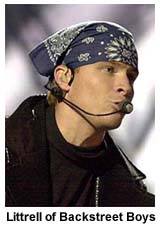 As if the Contemporary Christian music world was not polluted and worldly enough, the recent rumblings in the Christian music scene is surely another jagged nail in the coffin of any real Christ-honoring influence. The latest "love of money" (1 Tim. 6:10) debauchery of the CCM world is that Brian Littrell of the BackStreet Boys will soon be releasing a (God-forbid!) Christian album. According to new reports, Littrell is in the final negotiations with Provident Music Group on a solo Christian album.

A little about Provident Music Group. . .

Provident is no "new kid on the block".

Provident Music Group is one of the top three Christian Music labels in the world. Provident includes labels such as Benson Records, Reunion Records, Essential Label Group, Verity Records, Brentwood Records and Diadem Music. It is also the largest publisher of Christian songs in the world with Brentwood-Benson Music Publishing, Inc. It is home to such mega-stars as: Jars of Clay, Casting Crowns, Joy Williams, Third Day, Michael W. Smith, FFH, Kirk Franklin, Bebo Norman, Caedmon Call, Hillsong, Terry MacAlmon, Darrell Evans and many others.

Provident Music started out as the highly successful Brentwood Music. In 1994 Brentwood was sold to the Zomba Music Group. Zomba is the home of such stars as Britney Spears, N'Sync, Backstreet Boys, Tool, and others. In 2002, BMG purchased Zomba, which included Provident. BMG is a Goliath in the music industry. It is the No. 1 distributor of singles in the United States and is the third largest music publisher in the world. BMG owns over 200 record labels, including such biggies as Arista, J Records, Jive Records and RCA Music. BMG houses such mega stars as Christina Aguilera, Alabama, the Dave Matthews Band, The Foo Fighters, Five, Whitney Houston, Kenny G, Alicia Keys, Andy Lau, Avril Lavigne, Sarah McLachlan, Wolfgang Petry, Elvis Presley, Eros Ramazzotti, Santana, Rod Stewart, TLC, Usher, Evanescence, Santana and many, many more.

Back to The Backstreet Littrell and his Christian Music "baptism".

Before some Christians start jumping up and down thinking Littrell got right with God. Littrell is still a proud member of the sex-centered-crazed Backstreet Boys band. And in fact, Littrell and "The Boys" are currently recording a new teenie-sexually-stimulating album. But after collaborating with "The Boys", Littrell's next project is a Christian album.

Is there something seriously wrong with this picture?

One of the "gospel classics", Littrell is considering is a spiritual version (ha!) of the Marvin Gaye/James Taylor song "How Sweet It Is To Be Loved By You." According to MSNBC Entertainment: "A. J. McLean, Littrell's hell-raising, recovering alcoholic bandmate, might also appear on the religious label. According to Littrell, "A.J. and I have talked about doing a duet. I'm not trying to dirty up the Christian market, though. He'll have to behave."

In case you are not familiar with The Backstreet Boys music, here is a brief introduction.
---
BACKSTREET BOYS
---
The BackStreet Boys sing in "Lay Down Beside Me":
I can't deny it
The way your body swings
As I watched you from behind
How could I fly in?

Baby let me be the one to hold you
To give you the things I know you need . ..

If you lay down
Lay down beside me
You can get all inside me
And I can get all inside you too
If you lay down beside me
You can wake up beside me forever. . .


I give you what you need
Just come to me and get it
Baby, you won't regret it
No, no, no, no, baby
Baby move a little closer, yes
I wanna feel your body next to mine
And before this night is over. You will just know what I need. . .

P.S. It's common knowledge the word "lay" is a slang for fornication. (American Slang, Robert L. Chapman, p.262)

Many young people have wrtten me screaming, "lay down beside me" is not talking about sex — it's just talking about getting to know someone!

Aw c'mon now. . . Read the follow lines:
"Just come to me and GET IT,
Baby, you won't regret it
I wanna feel YOUR BODY NEXT TO MINE,
And before this NIGHT is over.
You will just know what I need. . .
If they weren't referring to sex, at least indirectly — why didn't they use the clear word — lie. "Lie down beside me" is obviously much clearer. But with lyrics like "I wanna feel your BODY NEXT TO MINE, And before the NIGHT is over" — that would be like putting "whip cream on an onion".

By the way, how many of you "old-fogies" can remember the outcry over Bob Dylan's "openly-sexually-titled", "Lay, Lady, Lay" — many radio stations refused to play it, simply because of the name! Everyone knows what "Lay Down Beside Me" means.

The BackStreet Boys proudly sing of trying to rob a young girl's virginity in "Boys Will Be Boys":
We try to get closer,
And you always push me away.
You tell me it's much too soon, but I just can't help it.
I always gotta make your play.

Whoa, whoa. Oh oh. Whoa, whoa. Oh.
Boys will be boys. . .

All my senses go right into over drive.
All my defenses are never going to hold,
I'm always going to lose control.
I hear you singing that you think that we should wait.
If I can't hold on any more.
My body's calling for you
So please don't hesitate. No.
Oooh Boys will be boys


You know I gotta do what I gotta do baby
God says "Flee fornication" — the Backstreet Boys say, "My body's calling for you, So please don't hesitate. . ."
Flee fornication. Every sin that a man doeth is without the body; but he that committeth fornication sinneth against his own body. 1 Corinthians 6:18
Who do you believe is right? God or the Backstreet Boys?
The Backstreet Boys ask the question in "Everybody (Backstreet's Back)" – 'Am I sexual'?
Everybody
Rock your body. . .
Backstreet's back alright . . .


Am I original?
Am I the only one?
Am I sexual?
Am I everything you need?
You better rock your body now . . .
Entertainment Weekly describes a BackStreet Boys concert as an adolescent "sexual awakening"!
"When Nick Carter — the youngest, blondest, and most yelp-inducing Boy — blurts out the ludicrous line 'Am I sexual?' hordes of 8- to 15-year-old girls clutch their throwaway cameras and scream their braces off. Another night, another 10,000 sexual awakenings. (So Shoot Me!. . . ...I can't help being a Backstreet Boys Fan, Entertainment Weekly, September 4, 1998)
And if you don't believe young teenage girls respond to the Backstreet Boys "sexual awakenings" — according to Spin Magazine, when the "boys" sung the line "Am I sexual?" during their Orlando concert, ". . . the girls roar and pound the floorboards so violently two roadies rush to secure the speakers." (In Bed With ... the Backstreet Boys, Spin Magazine, July 1998)
Oh, if you think the BackStreet Boys are young, naïve, innocent teenagers – think again – their ages are 19, 21, 24, 25 and 27 years of age! (as of July 1999)
And the average age of a young person to attend a Backstreet Boy's "sexual awakening" concert – 12 years old! (In Bed With ... the Backstreet Boys, Spin Magazine, July 1998)
Spin magazine tells of one 15-year-old girl, during a Backstreet Boys concert who, ". . . pushed my way to the front of the stage, and there was some 12-year-old standing in front of me on a crate!" The 15-year-old girl knocked down the 12-year-old from the crate and then, ". . . climbed onto the crate, ripped off her bra and threw it at Nick, . . ." (In Bed With ... the Backstreet Boys, Spin Magazine, July 1998)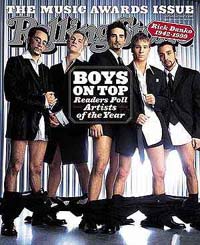 The cover of the Rolling Stone magazine (January 2000) is the "innocent" Backstreet Boys on the cover with their pants dropped down to their knees! Hum. . . I wonder what they mean by that?
Backstreet Boy, "AJ", who Smash Hits magazine calls the "dancing devil" (Smash Hits, August 1998), told Teen Magazine, ". . I'm the complete opposite of every clean-cut, decent looking guy you could think of, . . ." (The Boys Are Back, Teen Magazine, July 1999)
He's not kidding. . . "AJ" proves it with such "indecent" quotes in Backstreet Boys (Starlog Celebrity Series Presents #20), "Why do men have nipples? For girls to kiss!" or "When I see an attractive girl, I look at her eyes, if she's looking at me, but if she's not, look at her booty. I watch it go from side to side. . ."
The "boys" sing in "I Need You Tonight" – "it doesn't matter if it's right or wrong — I need you tonight. . ."
I need you tonight
I need you right now
And I know, deep within my heart
It doesn't matter if it's wrong or right
I got news for you – "I need you TONIGHT" – they're not talking about a prayer meeting!
How many of you fathers or mothers would like a 27-year-old singing to your, young, vulnerable, teenage daughter the following words – "If you want IT TO BE GOOD girl, get yourself a BAD boy . . . If you want it wild, . . . if you really like it hot. . . if you like it innovated . . . get yourself a bad boy" And they naturally sing to their young "victims" — ". . . And mama shouldn't know . . "
"If You Want It To Be Good (Get Yourself A Bad Boy)"

If you want it to be good girl
Get yourself a bad boy
Bad boy, bad boy, bad boy
Yeah, I like this, ha ha
Oh yes, ooh how, I like this
If you want it to be wild
Gotta know your suit of dial baby
That's me
If you really like it hot
Get someone who hits the spot honey

If you want it to be good girl
Get yourself a bad boy
If you like it innovated
Better get someone creative honey, yes . . .

Now listen,
There's a thing
And mama shouldn't know
There's a thing
I really wanna show you. . .
If you really want it good


I'm your bad boy, I'm your bad boy.
I realize some parents reading this is in shock – but you need to wake up! There are people in the music business that are corrupting your young children!
And now they want to make a Christian record?
To get a clear documented picture of just how serious and real this "sexual awakening" among the "tweens" is, according to a study published in the Pediatrics journal, most girls show signs of puberty [sexual maturity] at age 10, but get this – according to Pediatrics, at the turn of the 20th century the age was 15! (The Truth About Tweens, Newsweek, October, 18, 1999, p 62)
Here's another CLEAR indicator from Newsweek magazine, documenting this alarming increase of the "sexual awakening" of tweens:
"There are indications that some kids . . . are also becoming sexually active at an alarmingly early age. According to a 1997 Centers for Disease Control study, 6.5 percent of ninth-grade girls—compared with only 2.9 percent of 12th graders—said they had had sex before the age of 13. Boys showed a similar increase: 14.7 percent of ninth graders said they'd already been sexually active, while only 6.0 percent of 12th graders said they'd had sex before the age of 13." (The Truth About Tweens, Newsweek, October, 18, 1999, p 62)
Here's an interesting "co-inky-dinky": In the Backstreet Boys CD liner, somebody "forgot" to include the lyrics to "If You Want It To Be Good Girl (Get Yourself A Bad Boy)" or "Get Down", etc. But they did include the lyrics for "Quit Playing Games (With My Mind)" "As Long As You Love Me", "All I Have to Give", and "Anywhere for You". I wonder why? Could it be they didn't want mommy and daddy to see the lyrics? Remember in the song "If You Want It To Be Good (Get Yourself A Bad Boy)", one line says, ". . . mama shouldn't know . . ."

10 Out of the same mouth proceedeth blessing and cursing. My brethren, these things ought not so to be.
11 Doth a fountain send forth at the same place sweet water and bitter?
12 Can the fig tree, my brethren, bear olive berries? either a vine, figs? so can no fountain both yield salt water and fresh.
James 3:10-12


Her priests have violated my law, and have profaned mine holy things: they have put no difference between the holy and profane, neither have they showed difference between the unclean and the clean, and have hid their eyes from my sabbaths, and I am profaned among them.
Ezekiel 22:26